How to Paint Lilac in Watercolor
Articles may contain affiliate links.
Although lilac may look like a complicated flower, learning how to paint lilac in watercolor is easier than it looks.
This is especially true when you simplify the flower and render it in a loose watercolor style.
That means you focus on illustrating the flower without worrying about all the little details. This approach is excellent for beginners.
So, this tutorial will help you achieve your goal by focusing on:
The overall shape of the flower.
The pigments you'll use in your painting.
Simplifying the stems and the leaves.
Once you understand these fundamentals, you'll be able to paint watercolor lilac with effortless grace.
Without further ado, let's dive into the tutorial!
Materials You Will Need
Before you begin, make sure you have these essential watercolor supplies:
Watercolor paper
Watercolor paints
A round paintbrush in size 4 or 6
Two jars of clear water
A mixing palette
A cloth or some tissues (optional)
When you're ready, proceed to the next section.
Step-by-Step Watercolor Lilac Tutorial
Dilute purple or lilac pigment in your mixing well. If you don't own either of these colors, mix blue and red pigment to create purple.
Take your paintbrush and load it up with the watery pigment. Start at the top of the lilac where the tip is narrowest and use small stipples of paint to create the flowers. As you work your way down, make sure the tiny dabs of paint become more numerous in order to create a long triangular shape.
After the first lilac is painted, repeat step two once again by painting a second lilac beside the first. Tilt this lilac to the side so that it shows flow and movement.
Wait for the layer to dry.
Next, fill your brush up with more pigment. This time, make sure it's a little less watery. Dab this slightly darker pigment around the base of the lilac. Add a few more dabs of pigment in the middle section but avoid adding more pigment to the top.
Wait for the layer to dry.
Rinse off your brush in one of the water jars (the one that contains the dirty water) and then dilute some green pigment in the mixing well. Load up your brush and then paint a single thin line starting at the base of the lilac. Cross the stems over one another.
After you've painted the stem, apply gentle pressure on your paintbrush to create a few small leaves. Use gentle C shapes to create the curves of each leaf.
Wait for the layer to dry.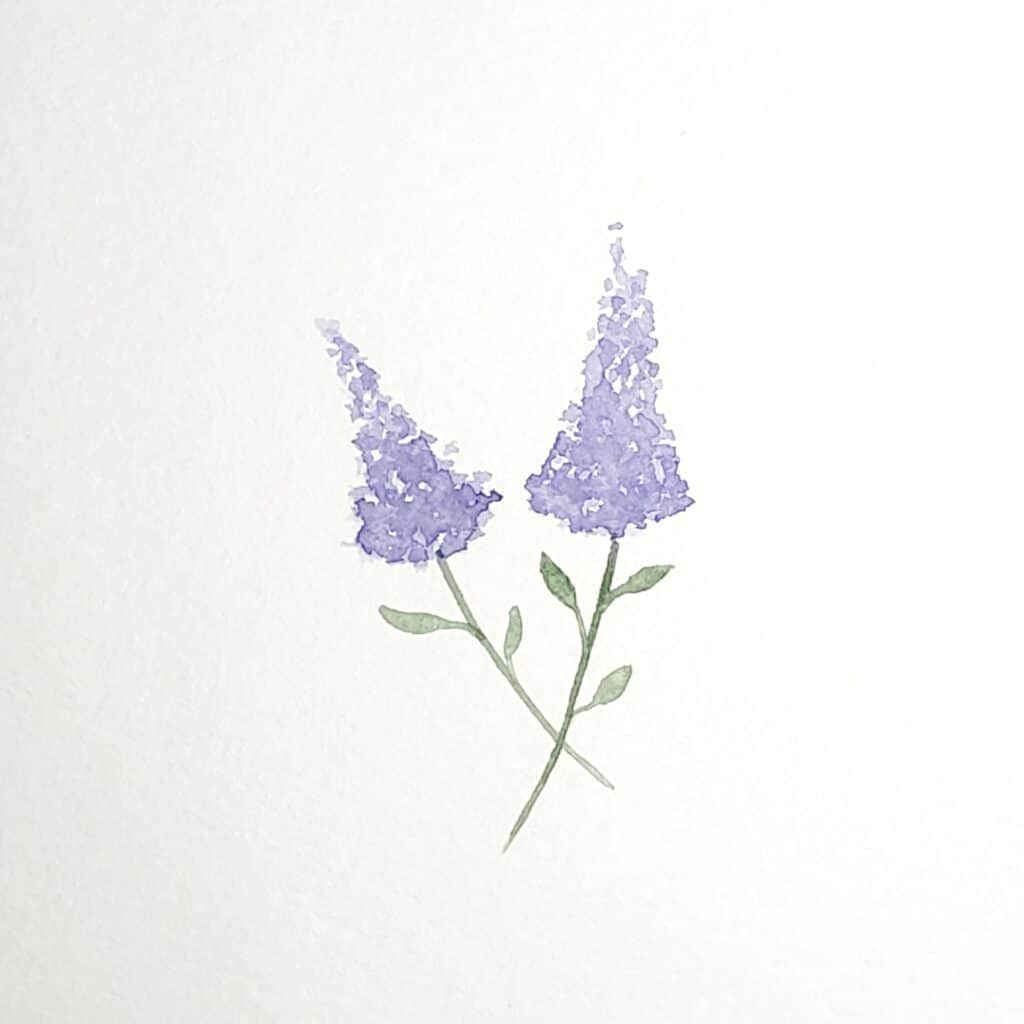 Create More Flowers: Next Steps
Now that you've learned how to paint lilac in watercolor, you're likely eager to continue creating more floral artwork.
After all, watercolor florals are beautiful. But it's important to make sure that you understand how to draw florals before you paint them.
Doing so will improve the quality of your watercolor florals.
So, join Foxsy instructor, Masha, in Floral Doodles: A Beginner's Guide To Drawing Flowers to learn how to draw tons of simple and pretty flowers.
You can use these flower designs to help you paint more types of watercolor florals!